Jan
29
In yesterday's Part 1, I began to discuss Newt Gingrich's campaign to be the 2012 Republican presidential nominee and in particular how I thought he was getting unfairly pilloried by the Republican establishment, in ads by his opponents, and by liberal provocateurs. Today, I'd like to shift to the positive — namely, Gingrich's actual Congressional record and his plans to rescue America from the brink that Obama and the "Progressives" have pushed us to….
"Newt Gingrich, if he does nothing else, did more for the conservative movement than virtually everyone today who's criticizing him."  — Mark Levin, conservative talk show host, author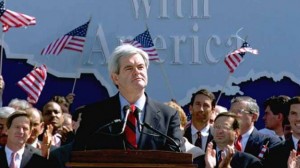 When Newt Gingrich was in Congress, particularly as House Minority Whip and then Speaker of the House, he demonstrated what could be accomplished by bold, conservative leadership and an honest effort to get bipartisan support on issues of common concern. For example, Newt was instrumental in the following:
1) Contract with America and the "Republican Revolution" of 1994
— Detailed the actions the Republicans promised to take if they became the majority party in the U.S. House of Representatives for the first time in 40 years, which they did.
2) Congressional Accountability Act of 1995
— Rather than being exempt, Congress and agencies of the legislative branch now had to abide by civil rights, labor, and workplace safety & health laws.
3) Welfare reform (aka Personal Responsibility and Work Opportunity Reconciliation Act of 1996)
— Over 2/3 of welfare recipients got a job or went to school.
4) Reduced several federal taxes (Taxpayer Relief Act of 1997)
— These included the largest capital gains tax cut in history.
5) Passed the first balanced budget since 1969 (1998)
— Remained balanced for 4 years and over $400 billion in federal debt was paid off.
6) Smaller government
— a) First reduction in discretionary spending in 27 years; b) Federal workforce declined 10%; c) Kept federal spending at 18.5% of GDP (compared to current 25% under Obama).
OK, you say. That was then. What does he plan to do if he gets in the Oval Office? Newt's new "Jobs and Prosperity Plan" centers around three major areas:
Repeal Job-killing Policies
Repeal and Replace Job-killing Obamacare Legislation
Repeal Job-killing Dodd-Frank Legislation
Repeal Job-killing Sarbanes-Oxley Legislation
Stop Job-killing EPA Policies (In fact, Newt wants to replace the EPA with a new Environmental Solutions Agency that will work with agriculture more closely and constructively.)
Stop Job-killing National Labor Relations Board Policies
More American Energy
Remove obstacles to responsible oil and natural gas development in the U.S.
End the ban on oil shale development in the American West, where we have 3x the amount of oil as Saudi Arabia.
Give coastal states incentives to allow offshore development.
Finance cleaner energy research and projects with new oil and gas royalties.
Lower Taxes and Smaller Government
Abolish the Death Tax
Abolish the Capital Gains Tax
Reduce Corporate Tax Rate to 12.5%
100% Expensing for Business Equipment
Balanced Budget Amendment
Stop wasteful government spending by adoption of Lean Six Sigma management principles and going after fraud.
Sounds like a great start to me!
Just as important (perhaps more so) is that Newt has a firm and full understanding of the global forces — from Iran & al Qaeda to China & Russia to Venezuela, North Korea, and the Middle East — that threaten the U.S. and anyone else that values freedom and the rule of law. He's not afraid to call them what they are, and he won't be afraid to take action (e.g., sanctions, blockades, exercise of necessary force) to protect American citizens and American interests and to preserve the ideological march of liberty & democracy here and abroad. (And, no, that doesn't mean he's a warmonger or wants to control every nation where the U.S. has a presence.) To be prepared, however, Newt will commit the resources to build up our military once again — people, ships, weapons, intelligence-gathering and other technology, and whatever else is needed to do the job and do it right.
Newt has a consistent pro-life record from during his 20 years (1979-1999) in Congress — 98.6% Lifetime Pro-Life Rating from the National Right to Life Committee (NRLC). Newt is, as Don Wildmon put it, "the best choice for Christian conservatives who want a president to stand against a rising tide of secularism and anti-Christian sentiment." In addition, he has bold, visionary ideas for entitlement reform, restructuring education in America, and revitalizing the American space program. (E.g., Gingrich wants space initiatives backed by private-public partnerships that grow jobs and the economy in Florida and elsewhere.)
Go here to watch a video of Newt introducing the "21st Century Contract with America."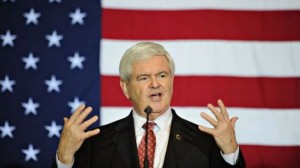 Obviously, not even a President can do it all immediately or on his own. He will need the support of the American people, who will in turn need to encourage (or pressure) their Representatives and Senators to support these plans and policies.
I think the other GOP candidates each have many positive aspects of their respective platforms, personalities, and experience. They all seem to be decent fellows with close families, had a fair amount of financial success, spent several years in public service supporting (usually) conservative principles and causes, and recognize the need to get Obama and his cronies out of office and out of power before they destroy this nation. But, they all have glaring weaknesses and inconsistencies, too. I especially like Rick Santorum (my 2nd choice), but as one commenter on Facebook said,
"Santorum is not ready for the big stage. He is sincere and very conservative but Obama would eat him for lunch…. [On the other hand,] when Newt responds to questions, he gives me the confidence that he could sit in a room on any political theater and hold his own. He also is well connected in Washington — by both sides and has a proven record of bi-partisan engineering."
Maybe in another 4 or 8 years, Santorum will be ready. I'd love to see a Gingrich/Santorum GOP ticket in either 2012 or 2016. Or, maybe Gingrich/Perry.
It's also worth considering some of the big names who have endorsed Newt:
Chuck Norris
Gov. Rick Perry
Herman Cain
Sarah Palin (no official endorsement, but enthusiastically supports & defends Newt) & Todd Palin
Fred Thompson (former U.S. Senator (R-TN), actor, commentator)
Don Wildmon (founder and retired President of American Family Association)
Michael Reagan (former radio host and Republican strategist, commentator, son of President Ronald Reagan)
Alan Wilson (SC Attorney General)
Major General James E. Livingston, USMC, Ret. (Congressional Medal of Honor winner)
Colonel Michael Steele, U.S. Army, Ret. ("Black Hawk Down" commander)
Frank Gaffney (former Deputy Assistant Secretary of Defense for Nuclear Forces and Arms Control Policy in the Reagan Administration, founder and president of Center for Security Policy)
Michael Youseff (pastor, columnist)
Jim Garlow (pastor, author)
Doug Geivett (Professor of Philosophy at Biola University, author)
I highly recommend reading the letters from Garlow and Geivett linked above.

God knows — and we do, too — that Newt Gingrich ain't perfect, either. In the end, though, Newt simply has the best combination of knowledge, experience, ideas, and vision to get the United States back on track to health, safety, and prosperity. He has the rhetorical skills and personality to not only confront the bias of the liberal media but to take on Obama and the rest of the Progressive Left in November 2012 and beyond! I also think he now has sufficient funding, personnel, and momentum to continue strongly through to the end and win! So, when I vote in the Florida primary in just a couple days (Jan. 31), I'm going to confidently cast my vote for Newt Gingrich. I hope you do, too.
Go Newt!
P.S.  If this pair of posts has helped you think through some questions and convinced (or reaffirmed) you to vote for Newt, please pass along the link(s) to your friends and family. Thanks.