Dec
24
"But you, O Bethlehem Ephrathah, who are too little to be among the clans of Judah, from you shall come forth for me one who is to be ruler in Israel, whose coming forth is from of old, from ancient days."  — Micah 5:2 (ESV)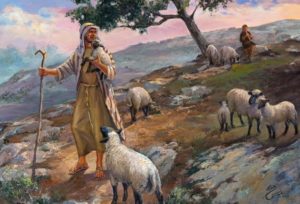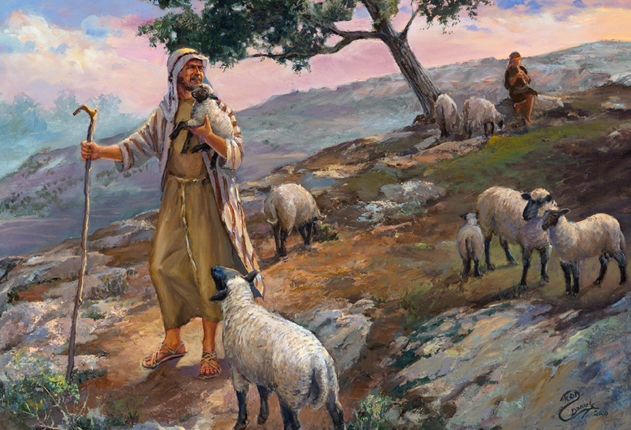 I was wondering what I might do for a Christmas-themed post this year and was struggling to find a good idea I could develop in time. Fortunately (providentially?), I was introduced to a video from a Christian ministry called Day of Discovery that has some information I wanted to share. Beginning almost 14 minutes in, co-host Jimmy DeYoung starts talking about his having done extensive study of biblical and extra-biblical Jewish writings and a fascinating discovery he made regarding the shepherds from the Nativity story.
It begins with the fact that, contrary to what some people have thought and taught, those shepherds were likely not mere "boys" but closer to 30 years old, trained as priests and given the special responsibility of caring for the sheep that are sacrificed at the Temple Mount. (You can skip the oddly-placed segment about the kibbutz house used for prepping movies and TV shows (~15:20-16:40).) DeYoung then talks about Migdal-Eder (aka "the Tower of the Flock"), a two-story, stone tower in the shepherds' fields between Bethlehem and Jerusalem (Gen. 35:21). From the upper story, the shepherds — in particular, the chief shepherd — could look out over the flocks and spot any predators, etc. Along the outside of the lower story were mangers (i.e., food troughs) for the animals. Within the lower story was where the priestly shepherds would birth the newborn lambs. As DeYoung describes it:
"They would reach into the mother's womb and pull this newborn lamb out. And then they would reach back and get some swaddling and [snugly] wrap that newborn lamb, because if it harmed its limbs in any way, it would be disqualified as a sacrifice. Once the lamb was wrapped, they would lay it up in a manger until it calmed down. Then they would take it, unwrap the swaddling, and let it run off to its mother for some food."
Now, keep that in mind when reading Luke's account of the Nativity shepherds:
"8 And in the same region there were shepherds out in the field, keeping watch over their flock by night. 9 And an angel of the Lord appeared to them, and the glory of the Lord shone around them, and they were filled with great fear. 10 And the angel said to them, "Fear not, for behold, I bring you good news of great joy that will be for all the people. 11 For unto you is born this day in the city of David a Savior, who is Christ the Lord. 12 And this will be a sign for you: you will find a baby wrapped in swaddling cloths and lying in a manger." 13 And suddenly there was with the angel a multitude of the heavenly host praising God and saying,

14 "Glory to God in the highest, and on earth peace among those with whom he is pleased!"

15 When the angels went away from them into heaven, the shepherds said to one another, "Let us go over to Bethlehem and see this thing that has happened, which the Lord has made known to us." 16 And they went with haste and found Mary and Joseph, and the baby lying in a manger. 17 And when they saw it, they made known the saying that had been told them concerning this child. 18 And all who heard it wondered at what the shepherds told them. 19 But Mary treasured up all these things, pondering them in her heart. 20 And the shepherds returned, glorifying and praising God for all they had heard and seen, as it had been told them."  — Luke 2:8-20 (ESV)
If DeYoung's conclusions are accurate, then this truly is a fascinating discovery. It means that the shepherds understood very well the implication for the baby, this young "Savior", to be "wrapped in swaddling cloths and lying in a manger." It was a sign that the child was the Lamb of God, Who would one day be sacrificed for His people at Passover. Imagine contemplating *that* revelation! (Since the Passover Lamb was also eaten after it was slaughtered, there is likely a connection here with the Eucharist (aka "Lord's Supper"), as well.) It may seem shocking, but this was the goal all along for "the Word become flesh."
"9 In this the love of God was made manifest among us, that God sent his only Son into the world, so that we might live through him. 10 In this is love, not that we have loved God but that he loved us and sent his Son to be the propitiation [i.e., atoning sacrifice] for our sins."  — I John 4:9-10 (ESV)
We know from the Gospels that Jesus of Nazareth was indeed killed at Passover 30-some years later, but that isn't all there is to the story. As I summarized elsewhere, "The Christ-Child grew into the God-Man, lived a morally perfect life, went about His Heavenly Father's business — teaching, preaching, and healing — until He was betrayed, executed horribly and unjustly by the authorities, and raised Himself from the dead three days later, providing the only opportunity for spiritually fallen Men to be reconciled back to their Creator. And the world has never been the same since!"
Have a Joyous Christmas, as we remember the true Reason for the Season!