May
14
"If the post office was a business, it would be in bankruptcy. It's insolvent."  — Rep. Dennis Ross (R-FL)
In case you haven't heard, I'll give it to you straight. The Post Office is in deep trouble, sinking under huge deficits and hampered by Congressional micromanagement. If the powers-that-be don't get their collective act together and fix it, there might not be a USPS for long.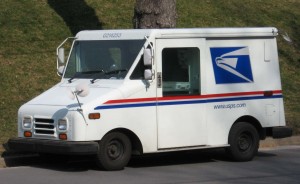 While often thought of as a government-owned corporation (e.g., Amtrak), the United States Postal Service (USPS) is actually an "independent establishment of the executive branch of the Government of the United States", (39 U.S.C. § 201). It is run by an eleven-member Board of Governors, including nine Presidential appointees, who then select a Postmaster General, and those ten select a Deputy Postmaster General. (It's like a corporate board of directors, CEO, & COO.) The Board is responsible for setting policy, procedure, & postal rates, and the Postmaster General oversees day-to-day operations. The Board also appoints an independent Inspector General. Duties of the Office of the Inspector General (OIG) are "to prevent, detect and report fraud, waste and program abuse, and promote efficiency in the operations of the Postal Service." The OIG oversees all activities of the Postal Inspection Service (PIS). But, despite being part of the executive branch, Congress still has control on major operational matters, as per the U.S. Constitution.
Aside from relatively small subsidies for accommodation of the disabled and overseas service, the USPS is also not run on taxpayer money. Well,… it is, but probably not how you think. The prices we pay for stamps, postal insurance, delivery confirmations, etc., don't come close to paying for USPS operations. It gets tens to hundreds of millions of dollars in "implicit subsidies" each year — e.g., breaks on property tax, vehicle registration, & sales tax, plus subsidized government loans.
I tell you all this for background info on the current situation. Here are a few facts to consider:
Volume of first-class mail — the most profitable form of physical mail — is now down over 25% since its high in 2001. Overall volumes are down about 17%.
With these declining volumes and relatively stagnant fixed costs, the USPS reported a $5.1 billion loss for its 2007 fiscal year, $2.8 billion loss in 2008, $3.8 billion loss in 2009, $8.5 billion loss in 2010, and $5.1 billion loss in 2011.
It is expected to lose over $14 billion in 2012.
Worse, unless changes are made, it expects to lose over $18 billion annually by 2015.
Postmaster General Patrick Donahoe announced that the Service will actually run out of cash by October 2012, possibly sooner.
Last December, the USPS agreed to implement a plan that would close 3,700 local post offices and 252 (out of 461) mail processing centers, as well as eliminate overnight service and Saturday delivery. It would also affect several thousand employees, some being laid off and others reassigned. This would be the beginning of a larger, 3-year effort with roughly 100,000 jobs affected — i.e., mostly via buyouts & early retirements — but saving up to $6.5 billion a year. This seems like a sound financial decision for the struggling Postal Service. However, a few days later, the USPS announced it was delaying implementation until mid-May 2012, so that Congress had "more time to pass legislation that would give it more authority and liquidity to stave off bankruptcy."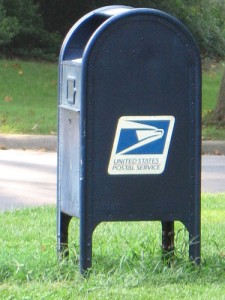 Yet, historically, Congress has been a big part of the problem. The USPS has, under the past two Postmasters General, trimmed the workforce through attrition and some buyouts. This could be accomplished because "it aroused no opposition from stakeholder groups or Congress." This is not always the case, though, as pointed out in a recent study done by the Institute for Research on the Economics of Taxation (IRET):
"Frequently, however, USPS's efforts to control costs meet resistance and are blocked, delayed, or watered down by statutory restrictions or political pressure. This is evident when one looks at restrictions on layoffs, reduced delivery frequency, and post office closings at the U.S. Postal Service compared to many foreign posts."
Also, from the Executive Summary:
"Some of the dramatic service changes USPS is now proposing are an unfortunate result of Congressional barriers to less disruptive adjustments. This suggests that Congress should also be cautious about standing in the way of changes that, although having some negative impact on service quality, would yield major costs savings and do less harm than the alternatives.

This does not mean letting USPS do whatever it wants. Congress and the Postal Regulatory Commission (PRC) should continue to closely monitor the Service's actions to be sure it upholds its universal service obligation (USO) and does not abuse its statutory mail monopoly."
This government micromanagement is one of four main reasons uncovered by the IRET study for why the U.S. Postal Service's costs or receipts differ from those of postal services in other nations. The other reasons are costly retiree health benefits, postal rates, and nonpostal diversification.
So, you may ask, what has Congress been doing to address the problem since the USPS announced their delay?
In true kick-the-can-down-the-road fashion, last month 62 senators approved the 191-page "21st Century Postal Service Act" (S. 1789) "to prevent these changes until the USPS establishes new service standards for mail, effectively delaying action for six months." Except for the delay, it's a good start, since the measure would give the USPS almost $11 billion towards employee buyouts and early retirement incentives and to pay off its debts. The measure allows for the end of Saturday mail deliveries in two years, but only after USPS determines it is financially necessary. Some deliveries will be converted from front door to curbside, saving up to $4.5 billion a year. Additional cost-cutting measures are included, as well. The Postal Service also could move forward with plans to shutter thousands of post offices and hundreds of mail distribution centers -— but senators placed several restrictions on when, where and how outposts in rural communities could be closed."
[Note: It has been determined that, over the years, the USPS has accidentally(?) overpaid about $7 billion into the Federal Employee Retirement System (FERS). Drawing out that money would provide the bulk of the funds for employee buyouts & retirement incentives.]
It's now up to the House, and Rep. Darrell Issa (R-CA), chairman of the House Oversight and Government Reform Committee, leads those critical of the effort, saying the Senate is trying to butt in and "inject parochial politics into the postmaster general's decision making." In other words, they just want to save post offices in their own backyards, even when they constantly lose money.
Some people don't like the bill, because it still hasn't freed up the USPS to raise its own rates, which could offset some of the losses. On the other hand, some (like me) are frustrated, because they think postal rates and other service matters should be determined within a competitive marketplace, rather than set by the government.
According to the Washington Post,
"'While the Postal Service is actually trying to shutter some facilities it does not need, the bill forces the Postal Service to keep over one hundred excess postal facilities open at a cost of $900 million a year,' Issa said.

Issa's bill [co-sponsored by Rep. Dennis Ross (R-FL)], which has yet to be scheduled for a vote in the House, allows USPS to end Saturday mail deliveries, streamline postage rates and require postal workers to pay the same health insurance premiums as federal employees. It also establishes a financial control board to overhaul postal finances and a separate commission inspired to recommend which postal facilities should close."
Current postal employees would also have to pay a greater share of their own retirement. William La Jeunesse at Fox News reports that…
"Both the House and Senate plans would curtail the Postal Service's ability to close those offices, though the Senate-passed measure is far more restrictive than the one being floated in the House….

Postmaster General Patrick Donahoe claims the Senate is stopping him from saving $20 billion."
Just last week (5/9/2012), Postmaster General Patrick Donahoe made another announcement. Apparently, there was such an outcry from (mostly rural) areas worried about losing their post offices that the USPS has cancelled the earlier plan. Now, rather than close any post offices, they will…
"…whittle down full-time staff but maintain a part-time post office presence in rural areas, with access to retail lobbies and post office boxes…. [M]ore than 13,000 rural mail facilities could see reduced operations of between two and six hours.

The Postal Service intends to seek regulatory approval and get community input, a process that could take several months. The new strategy would then be implemented over two years and completed in September 2014, saving an estimated half billion dollars annually."
Oh, for cryin' out loud! Quit dragging your feet and get on with it! Time and money's a-wastin'!
Seems to me that both Donahoe and Congress — particularly the Democrat-controlled Senate — need to get serious. Now! Stop screwing around and get the USPS house in order or it's going to implode at the public's expense! I agree with the Heritage Foundation's James Gattuso, who says that much more substantial cuts and closings are needed than anything currently being discussed. (And that was before last week's cave-in.) Restructure, innovate, maybe go independent.
Heritage's Mike Brownfield concludes:
"Instead of throwing up barriers to reform as the Senate is doing, Gattuso says Congress should give the Postal Service more flexibility to reform itself with necessary cost-cutting measures and innovations like automated postal 'kiosks' or 'approved shippers' for packages to stamp sales at supermarkets and other stores.

The Postal Service does not have to be a joke of inefficiency, and it can continue its mission of serving the American people if Congress allows for necessary reforms."