Feb
15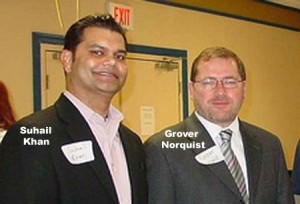 Years ago, former Reagan official Frank Gaffney (now founder and president of the Center for Security Policy) charged conservative activist/strategist Grover Norquist with having ties to the Muslim Brotherhood. The charges were "investigated" by the American Conservative Union and Norquist was finally cleared in 2011. Now, it appears that Gaffney is being vindicated. A 45-page report with similar charges against Norquist and Suhail Khan — both members of the ACU's Board of Directors — has been filed by several respected, former national security leaders and officials (e.g., Allen West, James Woolsey, Andrew McCarthy).
Here's a quote from Gaffney in the interview on his reaction to the new charges:
"[W]hat we've seen in the past week is the fruit of the kind of work that Suhail Kahn has been doing inside the US government, and that is the announcement by the President through his Homeland Security and State Department that, just because you've been involved in running 'a little bit' of material support to terrorism, that should not preclude you from gaining asylum in this country. Suhail Khan has been working to eviscerate our material support to terrorism for years, and I think, thanks to his work and that of another prominent Muslim Brotherhood activist, Mohammad Magid, they've made a substantial inroad in that direction with this announcement by the President. This has to be addressed and challenged and, I hope, undone, so that this kind of operation won't be allowed by someone who confesses to be a conservative activist."
This is a serious indictment of the Islamists' infiltration and influence in some quarters on the Right side of the political aisle. (We already knew they had infiltrated the Left, including the Obama administration itself.) If these accusations turn out to have substance (and it appears that they do), then those "advancing the interest of the Muslim Brotherhood organizations in this country" needed to be rooted out like a cancer. I just hope the powers-that-be take it seriously and learn a lesson or three from it all.