May
29
"By the flow of the inland river, Whence the fleets of iron have fled,
Where the blades of the grave-grass quiver, Asleep are the ranks of the dead:
Under the sod and the dew, Waiting the judgment-day;
Under the one, the Blue, Under the other, the Gray."
— first stanza of "The Blue and the Gray", by Francis Miles Finch
Even before the American Civil War ended, it became customary in some communities for women to decorate the graves of fallen soldiers. Normally, Southerners only decorated graves of Confederate soldiers and Northerners those of Union soldiers. But, there were instances of non-partisan honors, one of which inspired the above poem by Finch. On May 5, 1868, General John A. Logan, national commander of the Grand Army of the Republic (GAR), an organization of Union veterans, issued his General Order No. 11, calling for May 30th to be designated a national day "for the purpose of strewing with flowers, or otherwise decorating the graves of comrades who died in defense of their country during the late rebellion, and whose bodies now lie in almost every city, village and hamlet churchyard in the land."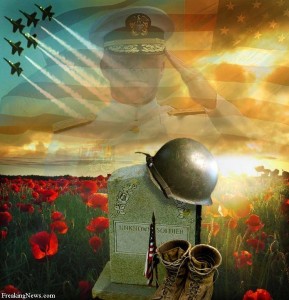 Originally known as Decoration Day, the first official memorial was held May 30, 1868, at Arlington National Cemetery, across the Potomac from Washington, D.C. General James Garfield and other officials gave speeches before 5000 attendees, then flowers were scattered on the graves of the 20,000 Union and Confederate soldiers buried there, while prayers were recited and hymns sung. Some accounts say that flags were placed on the graves, as well. Flowers and small American flags have become the customary decorations at such ceremonies, though sometimes family & friends add a photo or other memorabilia to specific gravesites.
Beginning with New York in 1873, the Northern states had all officially recognized the holiday by 1890. Most Southern states, on the other hand, stubbornly refused to do so. However, they relented after World War I, by which time the purpose of the holiday had broadened to memorializing members of the American military who died in war, regardless of which one. Also, it was following WWI that the U.S. (along with several other countries) erected a Tomb of the Unknown Soldier (or "Tomb of the Unknowns", or some variation thereof).
I might also mention that it was during World War I that the National Poppy Movement began in the U.S, France, & Belgium, in which people wore red poppies in honor of those who died while serving their nation in war. The proceeds from selling poppies — real and artificial — went to benefit war widows and orphans. The VFW's "Buddy Poppy" Program continues that tradition, with the artificial poppies being assembled by disabled and needy veterans in VA Hospitals. The proceeds, though, now go to help those disabled and needy veterans, "provid[ing] financial assistance in maintaining state and national veterans' rehabilitation and service programs and partially supports the VFW National Home For Children."
Over two dozen towns across the North and South claim to have been the first to celebrate a "memorial day" for American soldiers killed in war. For example, a gravestone in a cemetery in Carbondale, IL, Gen. Logan's wartime home, says that the first Decoration Day ceremony took place there on April 29, 1866. In 1966, though, Congress and President Lyndon B. Johnson declared Waterloo, NY, to be the official "birthplace" of Memorial Day. On May 5, 1866, the residents of Waterloo had begun a tradition of closing businesses for the day and flying flags at half-staff in honor of local veterans who had fallen during the Civil War. Reasoning in favor of Waterloo's claim includes the facts that, as opposed to other towns, their ceremony was formal, community-wide, and not a one-time thing.
Decoration Day slowly became known as Memorial Day in some quarters, but it was always celebrated on May 30. That is, until 1968, when President Johnson signed the "Uniform Monday Holiday Act" (PL 90-363) into law, thus assuring a 3-day weekend for federal employees by establishing Memorial Day as a federal holiday to be observed on the last Monday in May. (Other federal holidays were similarly affected.) This is sometimes mistakenly referred to as the "National Holiday Act of 1971", presumably because the law didn't go into effect until Jan. 1, 1971. It should also be mentioned that several Southern states have set aside their own days for honoring Confederate veterans only.
"We should guard their graves with sacred vigilance…. Let pleasant paths invite the coming and going of reverent visitors and fond mourners. Let no neglect, no ravages of time, testify to the present or to the coming generations that we have forgotten as a people the cost of a free and undivided republic."  — John A. Logan, General Order No. 11
In December 2000, Congress passed (and President Clinton signed) "The National Moment of Remembrance Act" (PL 106-579), which created the White House Commission on the National Moment of Remembrance. As per VA.gov, "The National Moment of Remembrance encourages all Americans to pause wherever they are at 3 p.m. local time on Memorial Day for a minute of silence to remember and honor those who have died in service to the nation." Or, if you have three minutes to spare, you could watch this very moving video montage: