Dec
7
Tonight I'd like to comment on two pieces of news: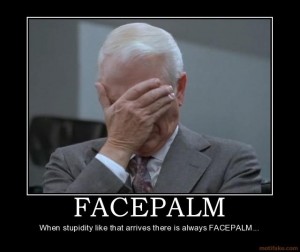 Stupid #1
As you probably heard last week, a 9-year-old North Carolina boy got some national attention after he said he thought his teacher was "cute". The prepubescent lad, Emanyea Lockett, was accused of "sexual harassment" and suspended from school. Gimme a break!
Gaston County School District has now issued a statement retracting the "sexual harassment" accusation:
"We regret this situation happened. The superintendent has attempted to contact the family to offer an apology to the parents and student. The school system is also sending an official letter of apology to the parents and student…."
I applaud this, but…
Stupid #2
The district seems to have overreacted in their admonishment of Jerry Bostic, Principal of Brookside Elementary. Bostic told the Gaston Gazette that he was given an hour to decide whether to quit or be fired.
"One mistake in 44 years, and I'm not given the benefit of the doubt. I really don't believe I was treated fairly."
As much as I think suspending a 9-year-old for "sexual harassment" is an example of politically-correct stupidity, I think forcing the principal to retire over this is going overboard. Sounds like the district is throwing Bostic under the (school) bus.
Stupid #3
On an entirely different topic and much bigger scale…
You've heard about this big pipeline to-do, right? TransCanada Corporation wants to build the $7.5 billion Keystone XL pipeline that would transport tar sands crude oil from Alberta — through states like Montana, South Dakota, Nebraska — on its way to refineries on the Gulf Coast. It would create jobs in those states, add more than $20 billion to the U.S. economy, and provide the U.S. with 700,000 barrels/day of crude oil from a friendly, democratic, non-oppressive government that does not promote terrorism. Most thought this was a "no-brainer".
But, they need President Obama to give this Canadian company the 'OK' to proceed. He's caught between a rock and a hard place. Approve it and tick off his environmentalist activist friends (who hate fossil-fuels, of course, and tend to put salamanders and owls over the welfare of humans); reject it and tick off his labor union supporters (who, naturally, like to have their members employed). He chose the latter. More precisely, despite a detailed, 3-year study on the proposal, Obama said he needed more time to look into it and delayed his final decision until after the 2012 elections. So, in one stroke, Obama has effectively
1) eliminated the opportunity for 20,000+ desperately-needed jobs for Americans;
2) turned his back on multiple billions in new revenue (including $5.2 billion in State property taxes);
3) let slip a chance to make progress toward North American energy security, since Canada has indicated its Plan B is to work with China; and
4) insulted yet another U.S. ally.
"No-brainer", indeed.
Once again, Obama lets his "progressive" ideology and radical, "transformational" agenda — not to mention his re-election campaign concerns — get in the way of what is good for the United States, her citizens & residents, and her friends. Stupid!
P.S.  Just to clarify, I do not think Obama is intellectually stupid; he is stupid from a wisdom standpoint. That is, he is foolish. He has foolishly chosen a philosophical & political path that seems to mix radical Alinskyite-ism, liberal "progressivism", Marxist socialism & class warfare, etc., all of which have nothing but negative impacts on those affected. He is wiley and dangerous because of his position and power and willingness to abuse both to push his agenda.