Mar
31
In a recent panel discussion at Ligonier Ministries' 2012 National Conference, Dr. Del Tackett took his turn at the mic (56:20) to comment on the "young earth vs. old earth" issue. Since he holds a Young Earth Creationist (YEC) position, I, of course, disagreed with much (though not all) that he said. But, the portion of his comments I wanted to react to was this (57:20):
"From my observation, time — and LOTS of time — can be used as a very easy way to cover up the glory and majesty of God's creation. Do you know what I mean by that? In other words, given enough time,… Time is like the magic wand, so that, if time is not an issue, oftentimes people will use time as the creative force to bring about anything. And so, I think there is sometimes a motive there that can drive us into wanting to have a lot of time. Because, an evolutionist cannot… They cannot accept a young earth, because a young earth will pull the rug out from underneath any kind of a theory of evolution.

So, there's a motive there. There has to be a motive in order to have a very, very old universe [and] a very, very old Earth. I think that's important to keep in mind, because a motive can also sway your observation. So that if our observation — which we would hope would always be an honest observation of the evidence around us, [but] we know that's not true. We know that we're swayed by our presupposition and by our own desires. So, what I would say is that if you want to see an old Earth, you're going to look at evidence to support an old Earth. If you want to see a young Earth, you'll look at only the evidence to support a young Earth. So, there are motives that have to be understood in this, as well.

Now, I think that one of the problems that we have in the observation of the natural realm is that, if you do not begin with a primary understanding of Special Revelation [i.e., the Bible], then we can view the natural world from a wrong presupposition…."
Dr. Tackett then went on to give an example of such a wrong presupposition — namely, he believes that the Second Law of Thermodynamics (i.e., entropy) was not instituted until the Fall of Adam, and we need to be wary of making scientific observations of pre-Fall events through post-Fall glasses, if you will. I happen to believe that his presupposition about the Second Law is incorrect for both Biblical and scientific reasons, but I don't want to get into that at this time.
What I want to address first is Dr. Tackett's comments about time and his own presuppositions about 1) the implications of long periods of time in the history of creation and 2) the motivations of anyone — including a Christian, apparently — who accepts the evidences for those long periods of time. Let's take the second point first….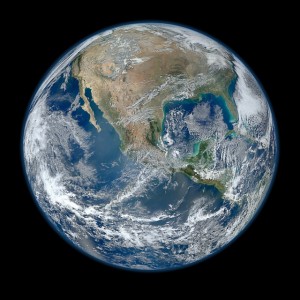 Dr. Tackett is correct, of course, that we all have presuppositions that can influence the way we interpret evidence and generally how we think about things. No argument, there. But, I can tell you from personal experience that, when I "converted" from a young-earth view to an old-earth view, it was not because I had some deep-seated longing for there to be "millions and billions of years." And I certainly had no desire to "cover up the glory and majesty of God's creation." On the contrary, I believed that "all Truth is God's Truth", the record of nature should be in harmony with the record of Scripture, and I wanted to know the best way to harmonize the interpretations of the two. I wasn't looking to "justify" Darwinian evolution, but the multiple evidences for many billions of years' natural history seemed very strong. The explanations I read/heard by Young-Earth Creationist apologists (not just on the time issue) occasionally seemed feasible, but upon further investigation they often revealed unsound hermeneutic, incomplete sets of facts, and/or required ad hoc assumptions. It took a bit of a paradigm shift, and it took time (pun intended), but I eventually adopted the Day-Age Interpretation of the Creation Days, which does no violation to the text or to the concept of God's "very good" creation, nor does it compromise the Gospel and the need for blood atonement.
Of course, Dr. Tackett doesn't know me from Adam. But, he is good friends with Stephen Meyer and at least knows Michael Horton. These two learned gentlemen were on the panel with him and, as they stated in their turns at the mic, they are firmly Old-Earth Creationists. I think he would also agree that they are orthodox in their theology. I find it hard to believe, then, that Dr. Tackett suspects them of letting a desire to comply — at least partially — with the Darwinian scientific establishment influence them into accepting an old-earth position on the age of the Earth. Maybe Dr. Tackett needs a new theory.
As for the implications of long periods of time in the history of the Earth and the universe, Dr. Tackett has fallen prey to the usual YEC attitudes and assumptions. Though he doesn't mention it, much of this is rooted in the belief that the Bible teaches there was no death — or suffering, disease, even "thorns & thistles" — for humans or animals before Adam's Fall from grace — i.e., when he and Eve first sinned. But, this is the result, IMHO, of faulty hermeneutics. (No human death, obviously. But beyond that? Nuh-uh!)
Now, Dr. Tackett is right that "an evolutionist… cannot accept a young earth," because it would undermine his/her theory. Actually, even with a universe ~13.73 billion years old and Earth ~4.57 billion years old, there still hasn't been nearly enough time for purely natural processes to produce the things the evolutionists claim they have done — assuming that life could even get started on its own. But, even if that wasn't the case, the scientific evidence for an ancient earth (and universe) is overwhelming.
Even so, it is apparent that everything from the structure of the universe to the tilt of the Earth and the size of the Moon have been finely-tuned and orchestrated not only for life to exist but for advanced (human) life to flourish on Earth. (Please see previous posts here, here, & here.) Given the uniform physical & chemical laws that God built into this universe, not only were those billions of years necessary, life could not have appeared on Earth any sooner than it did. Here are a few things that needed to happen to prepare a home for humanity:
1) Essential heavy elements had to build up: Boron was the heaviest element for the first 365 million years following the Big Bang Creation Event. But, life requires over 20 elements heavier than boron (e.g., carbon, nitrogen, oxygen, calcium, iron). It took three generations of stars and 9+ billion years to produce the variety & abundance of heavy elements and radioactive isotopes required for human civilization and high-tech societies.
2) Dangerous galactic events had to subside: While stars going supernovae are crucial for the abovementioned heavy elements and radioactive isotopes, they also spew out a lot of deadly radiation. Dense clouds of gas & dust are also dangerous. Gamma-ray burst events even more so. But, all of these subsided substantially after about 10 billion years. Likewise, galaxy-merging events were probably pretty common during the Milky Way's early years, but they eventually slacked off, too. It took 3.5 billion years for all of this deadly activity (and other dangerous stuff) to ease up enough for human civilization to have a chance.
3) Solar flaring had to subside: Our Sun is one of the calmest of stars, but it wasn't always so stable or benign. As with all stars, it has its share of flaring. Now that it is "middle-aged" (a little older than Earth), the flare activity is at a minimum and finally low enough to not pose a risk for humans or advanced civilization. The Sun's brightness has also varied during its "lifetime", which affected the types of life that could survive on the Earth at those times. Amazingly, the appropriate biodiversity appeared in the right places at just the right times. Humanity requires a certain minimum buildup of such biodeposits in order to thrive. (Y'see? Animal death before the Fall was a good thing.) Humanity's survival also depended on the Sun reaching a particular level of brightness, which was attained when it was 4.5 to 4.6 billion years old.
4) Bombardment of Earth had to subside: When the Earth was very young, the solar system was filled with tons of asteroids, comets, rocks, & dust. For quite awhile, they bombarded the Earth's surface. On the positive, they added valuable mineral deposits and replenished water that had been lost to outer space. But, the frequent impacts were so devastating that even primitive life, if it could even get started, would have been wiped out multiple times. Yet, as the Late Heavy Bombardment subsided about 3.8 to 3.9 billion years ago, we find the earliest signs of life. In other words, life appeared suddenly on Earth as soon as it could possibly survive!
(Dr. Hugh Ross discusses these and more — and in more detail — in his books Why the Universe Is the Way It Is, The Creator and the Cosmos, 3rd ed., and More Than a Theory.)
So, far from being an enemy of the Christian worldview or a tool or excuse "to cover up the glory and majesty of God's creation," eons of time are a testament to God's patience and care to make things just right for us, so that we can help Him carry out His plan to rid the world of evil as soon as possible.
Don't get me wrong. I have great respect for Dr. Tackett. But, on the matters of the age of the Earth, the necessary implications for billions of years, and the motivations of Christians who take an OEC stance, he's just plain… wrong.