Feb
2
Evidently, there seems to be a lack of evidence for the supposed evidence proving New Jersey Governor Chris Christie's guilt in the Bridgegate scandal. (Note: For purposes of this article, I am lumping all recent Christie-related allegations under the "Bridgegate" banner.)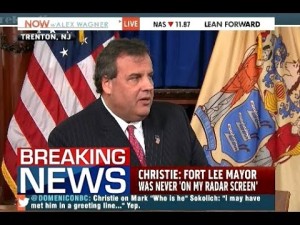 I have been disappointed in Gov. Christie for awhile, now. I was warming up to him when he was first elected, because I liked his no-nonsense, facts-over-feelings style of dealing with the economic realities of government. From what I could tell, he was stern but fair when it came to dealing with unions and their members. (My NJ friends may have a somewhat different view.) He was willing to say what needed to be said and to make difficult decisions, even when a few people might lose jobs or, at the very least, get their feelings hurt by what he said.
But, Christie left me cold after apparently buddying up to the President in hopes of gaining favor for relief aid, then drifting (or was he already there?) leftward toward center on "social" issues like same-sex marriage, abortion, and illegal immigration. He is no longer among my favorites for possible presidential candidates in 2016. I was glad to see that Ann Coulter finally followed my lead on that. 😉
Early in January, what had been largely a local controversy became known nationwide and soon dubbed "Bridgegate". Apparently, individuals in the governor's office had conducted an act of political retribution against the Democratic Mayor of Fort Lee, Mark Sokolich, (and possibly against State Senator Loretta Weinberg) by closing lanes on the George Washington Bridge for a non-existent "traffic study". Despite my now somewhat negative view of the governor and despite some calling him a bully, I did not jump on the bandwagon and assume that Christie was complicit. I listened to a good bit of his press conference, along with commentary on it, and decided that there was no good reason to believe he had knowledge of the plan, let alone directed it. He sincerely apologized, took full ownership (i.e, acknowledging, as any good executive does, that he is ultimately accountable for the actions of his staff), and answered all questions thrown at him. He took swift action to investigate internally and fired those most responsible for the shutdown — especially noteworthy in contrast to how President Obama has (non-)dealt with similar scandals in his own administration. The cynics among you may accuse me of being naive and easily duped. But, while Christie may end up being found guilty, I felt he deserved the benefit of the doubt.
A few more weeks have gone by, and I stand by my original assessment — but, this time, with even more weight. (That was an unintentional pun and not a "fat joke". Honest.) Gov. Christie seemed to have weathered the initial allegations, but then… Hoboken Mayor Dawn Zimmer claimed that she was informed by the governor's office that she had to give approval of a building development project that Christie liked in order for her city to receive funds from the Superstorm Sandy relief effort.
Townhall.com's Guy Benson has been tracking the whole thing and lays out the facts/issues, which I will summarize even more briefly:
The "Proof"
1) Zimmer's personal recollection
For what it's worth, she's willing to testify under oath.
2) Zimmer's "journal entry"
Supposedly written May 2013, when she received the "threat", the document is undated and unverifiable. Ironically, Zimmer stated under oath last July that she does not keep such records about city business.
3) Belated corroboration by Hoboken Councilman (and "Zimmer loyalist") David Mello
Mello's account relies on what Zimmer told him at the time. Question: Why didn't he come forward sooner? Moreover, assuming it's true and he & Zimmer were aware of public corruption months ago but agreed not to report it, they may be criminally negligent.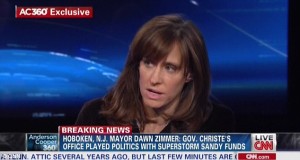 The Counter-evidence
1) Hoboken did receive the aid.
MSNBC claimed that Hoboken had been denied virtually all relief aid. But, the city actually received approx. $70 million, with more on the way, pending federal approval. Zimmer originally asked for $100 million, which was a full third of the total Christie had available for the whole state. The AP has reported that Hoboken was, in fact, treated "on par" with other municipalities similarly affected.
2) Democratic eyewitness
Zimmer claims that Richard Constable, a fellow-panelist on a TV show, confronted her on the set with the quid pro quo threats on behalf of the administration. Trouble is, none of the other panelists or anyone from the network can corroborate her story. One of those panelists, who sat between the two but heard no such threats, was Matt Doherty, Democratic Mayor of Belmar, NJ.
3) Shifting stories
The local reporter who broke the story says Zimmer originally claimed Hoboken was threatened because of Zimmer's refusal to support Christie for re-election. That would've been in tune with the original Bridgegate allegations; but, when that didn't pan out, she changed her tune. Even odder, shortly before the MSNBC story, Zimmer had told CNN that no retaliation had been aimed at Hoboken by the governor.
4) Praise for Christie
More evidence of Zimmer's fickleness: Months after the supposed extortion by Christie's office left her "saddened and horrified", Mayor Zimmer tweeted, "He has done a great job for NJ & Hoboken. We have a non-partisan mayoral election on Nov 5th." What?!
What's going on here? Delusion? Coercion? Revenge? Machinations of amoral ideologues? Maybe something else? Who knows?
Most recently, former Port Authority official David Wildstein, who personally oversaw the closures on the George Washington Bridge last September, has claimed that the governor knew all about it. Wildstein has been trying to wrangle an immunity deal, after having been charged with contempt and trying to avoid more of the same for refusing to testify. According to his attorney, Alan L. Zegas, Wildstein says "evidence exists" that backs up his claim, as well as "contest[ing] the accuracy of various statements that the governor made about him," regarding their past friendship and the nature of his professional duties. Christie, of course, denies the allegations.
But, what is this "evidence" and where is it? It has been pointed out that Zegas did not explicitly say that Wildstein has it in his possession. Even the NY Times has changed its online lead, removing the part that said Wildstein had evidence. Opinion journalist Josh Barro asks,
"If Wildstein has evidence the governor knew about the lane closures, why didn't he turn it over in response to the NJ Leg subpoena?"
Meanwhile, Christie's office reiterates:
"As the Governor said in a December 13th press conference, he only first learned lanes were closed when it was reported by the press and as he said in his January 9th press conference, had no indication that this was anything other than a traffic study until he read otherwise the morning of January 8th."
Like I said, it may yet turn out that Christie was complicit from the beginning, or maybe he found out about it later and did nothing. But, at least for now, it looks like Gov. Christie is the innocent victim in all of this. (I still won't vote for him in the GOP Primary, though.)